Opens 14 May 2021
by Shaun McKenna
directed by Terry Collins
Ladies in Lavender - a beautiful, emotional play. Sunday Telegraph
LADIES in Lavender is a wistful, poignant play about the longing for love and Shaun McKenna adapted it from Charles Dance's 2004 film starring Judi Dench and Maggie Smith.
It is set in a remote Cornish village in the late 1930s, as World War II looms, where spinster sisters Janet and Ursula lead a quiet life.
Then one morning they find a half-drowned young man, Andrea on the beach and take him to their home. Ursula spends hours by his bedside reading him The Little Mermaid as they slowly nurse him back to health, helped by the local doctor.
Andrea, who claims to be Polish but only speaks German, turns out to be a gifted violinist. Borrowing the doctor's violin, he charms the sisters and many in the village.
The play is beguiling. An old-fashioned drama that unfolds at a slow, gentle pace but the emotions feel palpably real.
Cast
Christine Cherry
Christine Vale
Jake Cain-Roser
Darienne Knight
Andy Kabanoff
Rosemary Parsons
Crew
Director - Terry Collins
Stage Manager - Fran Armstrong
Assistant Director - Terry Matthews
Assistant Stage Managers - Kirsty Bolton and Karen MacDougal
Prices: Adults $30, Concession $25, Children up to 16 $8.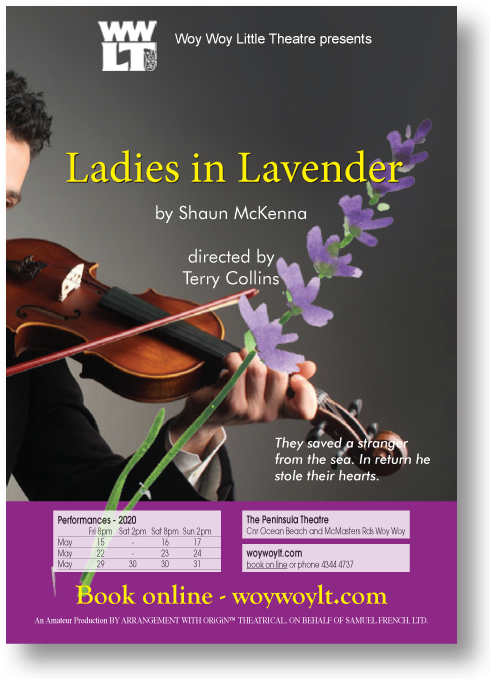 Ladies in Lavender
An Amateur Production BY ARRANGEMENT WITH ORiGiN™ THEATRICAL, ON BEHALF OF SAMUEL FRENCH, LTD.