Performances - October / November
by Patrick Barlow
directed by Christine Vale
In 2022, we will be presenting (what we THINK at the time of writing) the Australian PREMIERE of Ben Hur by Patrick Barlow, based on the novel by General 'Lew' Wallace.
The production reunites the team behind our outrageous comedy The 39 Steps (also written by Patrick Barlow) in 2012 and uses just four actors to tell the epic story set in ancient Rome.
The production has been described as having "stunning combat (featuring the latest 3D technology), a 103% bona fide chariot race (with REAL CHARIOTS), an authentic sea battle (with REAL WATER) and a decadent and UNEXPURGATED Roman orgy (suitable for all ages)."
Cast
To be announced.
Director - Christine Vale
Stage Manager - TBA
Prices: Adults $30, Concession $25, Children up to 16 $8.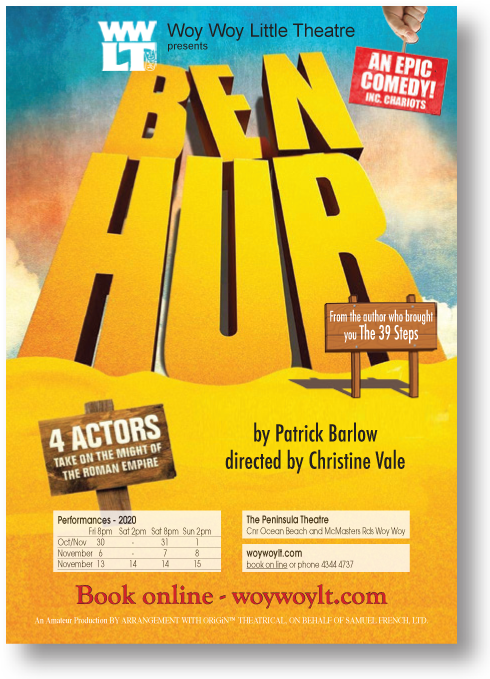 Ben Hur
Dates to be confirmed.
An Amateur Production BY ARRANGEMENT WITH ORiGiN™ THEATRICAL, ON BEHALF OF SAMUEL FRENCH, LTD.