Production has been postponed
by Agatha Christie
directed by Graham Vale
This Agatha Christie murder mystery will keep you on the edge of your seat!
Unlike many of Christie's plays, Appointment With Death is not set in a drawing room. An assorted group of travellers find themselves thrown together on an expedition to the rose red city of Petra.
At the centre of the group are Mrs. Boynton and her four stepchildren who never leave her side. This apparent devotion however is actually a façade for something far more sinister. Sarah King, a young English doctor, and her colleague, the eminent psychologist, Dr. Theodore Gerard, find themselves embroiled in a battle to free the children from the sadistic grasp of a tyrannical woman.
This chilling play offers a unique take on the classic murder mystery, where Christie explores the realms of the sadistic mind and the devastating effects of long term psychological abuse.
Cast
To be announced.
Director - Graham Vale
Stage Manager - TBA
Prices: Adults $30, Concession $25, Children up to 16 $8.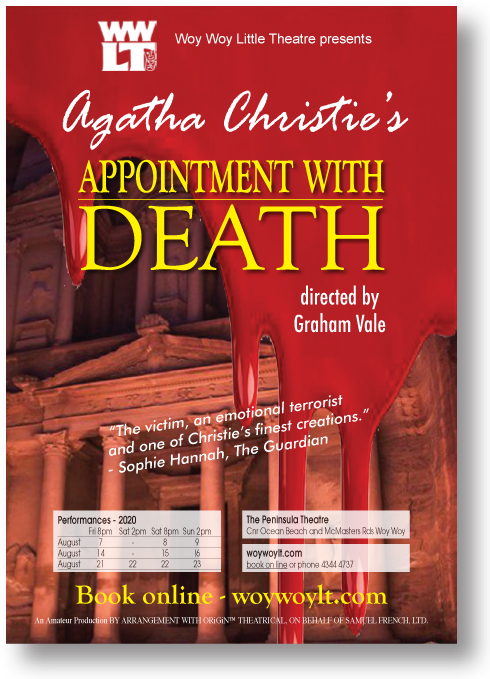 Appointment With Death
An Amateur Production BY ARRANGEMENT WITH ORiGiN™ THEATRICAL, ON BEHALF OF SAMUEL FRENCH, LTD.