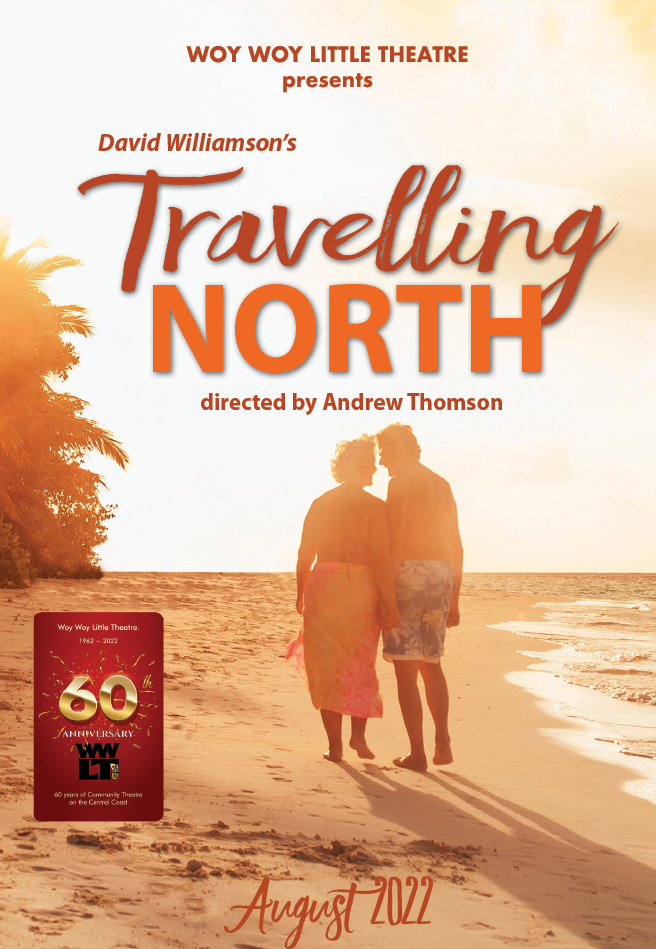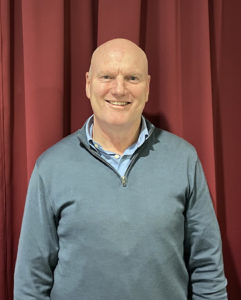 Andrew Thomson Director 
Andrew has directed a number great ensemble plays at WWLT, most recently The Final Test early 2020, before that Alan Ayckbourn's Absurd Person Singular and Baskerville: A Sherlock Holmes Mystery by Ken Ludwig. He's also performed on stage, in Absurd Person Singular, Rumours and Yes, Prime Minister to name a few.
_____________________
Travelling North was written in 1979 and coincides with Williamson moving from Melbourne to Sydney. It is one of his earliest to deal with family issues and is, in fact, a semi-autobiographical play as the inspiration came from when his second wife took Williamson up to the Central Coast to visit her mother, Hope, who was now seeing a much older man, Wilkie.
Williamson explains; "There was more than a little hint of disapproval from her two daughters about the new liaison, which I used in the play, but I found them an inspiring couple. Wilkie was a ferociously intelligent man, a former electrical engineer and ex-communist with pronounced opinions on just about everything. Hope was gentler but with a wonderful quality of perception and understanding. They both impressed me and, some years later, the image of them both living in a verdant, sunlit subtropical paradise re-entered my mind and became Travelling North."
Such was the popularity of the story that in 1987 Travelling North was made in the film starring Leo McKern, Julia Blake and Graham Kennedy.
We trust you enjoy stepping back into the period of 1969 to 1972 as the relatively new issues of romance in the twilight years and families ties are not only put to the test, but stretched to breaking point. Of course, we Australians can't deal with issues without our trademark sense of humour, so we've very much enjoyed delving deep and bringing these wonderful characters to life.
Andrew Thomson
Credits
Director – Andrew Thomson
Stage Manager – Bob Farmer
Production Manager – Fran Armstrong
Set Design / Construction – Steve Pembroke, cast, members
Lighting and Sound Operation – Penny Dilworth
Lighting Design – Loretta Foster
Back-stage Crew – Patrice Horne, Jake Cain-Roser and cast
Publicity and Photography – Clayton Williamson
Marketing / Box Office – Graham Vale
Front of House – Gordon Crawford, Sue Kemp and members
Special thanks to: David Wicks, Sounds of Musical Theatre, Central Coast Newspapers, Sandra Harpley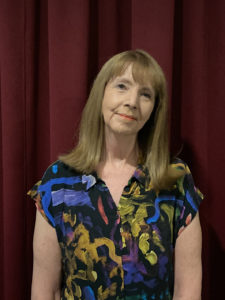 Christine Vale Frances 
Christine has played many roles for Woy Woy Little Theatre including the fading southern belle Blanche du Bois in Streetcar Named Desire, the gin-swilling Marion in Absurd Person Singular, the aloof matriarch Judith Bliss in Hay Fever and last year Ursula in Ladies in Lavender.
Her WWLT directing credits are many including Don't Drink the Water, Competitive Tenderness, Operator, The 39 Steps, The Venetian Twins and Ben Hur.
She hopes you enjoy Travelling North with two of the original Grey Nomads!!
_____________________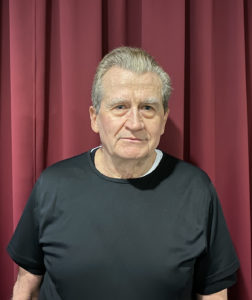 Simon Doctor Frank
Simon studied acting in Sydney and New York where he also acted in and directed plays. This is his first role with WWLT.
Apart from his theatrical pursuits, he worked as a solicitor in Wollongong, barrister in Sydney, journalist in Sydney and Hong Kong, secondary school teacher In Sydney and NY and for the Commonwealth Department of Health in law-related positions in Canberra. He contines postgraduate law studies at Sydney University while pursing his interest in classical music, theatre and literature. 
He's thrilled for the opportunity to try his hand at playing Frank in Travelling North.
_____________________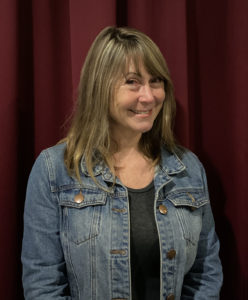 Diane Warman Sophie
Diane was last seen at WWLT playing Ruth in The Final Test. She studied at Independent Theatre for Young People (North Sydney), at Sydney Acting School and Max Rowley's Media Academy in the 1980s.
She performed in community musical theatre productions such as in the title role in Parramatta Musical Society's 1987 melodrama, Hold Your Tongue, Alice and many Concord Repat Hospital Cabaret shows during the 1980s.
She gave away acting for all the wrong reasons and is enjoying a return to this creative passion for all the right reasons!
_____________________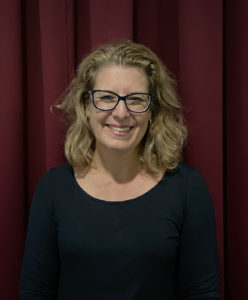 Kelli Ward Helen
Kelli discovered her love of the limelight performing shows on the front verandah of her parent's house during primary school.
Since then – Stepping Out for DNS Media Productions, WWLT's Absurd Person Singular and FLASH Festival, Uniting Productions' Antigone, A Better You and Boxed and several shows for GMS, including Rent and Return to the Forbidden Planet.
She has clocked up over 15 years' experience playing Theatresports and fills her spare time being Mum to a 4 year old with red hair and singing in a covers band, which would be famous by now if the band members could agree on a name.
She is hoping her family doesn't think she is too much like Helen …….
_____________________
Karen Rowe Joan
Karen is a life member of Gosford Musical Society. On stage with GMS she has played many lead roles such as Rosemary in How to Succeed In Business Without Really Trying, Kate in Kiss Me, Kate, Sonia in They're Playing Our Song, Dorothy in 42nd Street, Adelaide in Guys and Dolls, Charity in Sweet Charity and Rizzo in Grease with Brisbane Water Theatre Company to name a few. Also countless small roles and ensemble, most recently in Strictly Ballroom and We Will Rock You.
She has had a hand in almost every aspect of theatre from lighting, costumes, makeup, back stage, catering and production management.
This is her first production with WWLT and is happy to be back treading the boards after a long Covid break.  
_____________________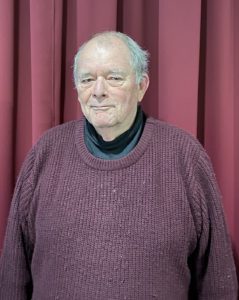 David Wicks Freddie
David currently hosts a three-hour radio program on Coast FM 96.3, the Sounds of Musical Theatre featuring interviews promoting local theatre productions, professional shows in Sydney and plays songs from the best musicals over the past 80 years. He can also be heard on Wednesday (9-12) and Thursday (6-9).
At WWLT, Teddy in Arsenic and Old Lace, Oscar in The Odd Couple, and smaller roles in other productions. Elsewhere: Higgins in My Fair Lady, Sgt Dan Simmons in Williamson's The Removalists and Alex in Money & Friends and more.
He recently produced and directed the hit production The Woman in Black, which played to sell-out audiences at Laycock St Theatre and the Art House, Wyong.
_____________________
Mark Austin Saul
Mark performed with Darlo Drama in The Venetian Twins, Bedroom Farce, Harbour and This Old Man Comes Rolling Home. He presented the one man show On the Track-The Life of Henry Lawson playing numerous characters and in Picasso at the Lapin Agile for Gosford Theatre Company. He has extensive work in screen with Las Chantery, improvisation with Lyn Pearce and comedy with Darren Gilshenen.
At WWLT he played three roles in Sherlock Holmes and the Adventure of the Suicide Club, three roles in Sylvia then Four Flat Whites in Italy and last year in Love Letters.
He hopes you enjoy Saul in Travelling North.
_____________________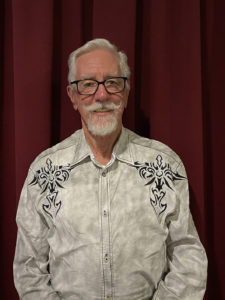 Douglas Kent Celebrant &Attendant
Since moving to Gosford, Douglas' roles have included: AFL Chairman of the Board, Ex-con, Butler (one of many), Geriatrics, Judge, Monk, Murderer, Mafioso Gambler, Card Player, Ancient Greek Counsellor, Elizabethan Guard, German Immigrant, Family Patriarch, American Salesman, Sadistic Lord, Spanish Grandee, Inn Keeper, Pirate Captain, French Detective, Landlord, Lumberjack, Cross-Dressing Builder, Evil Lord, TV Presenter, Corrupt Judge, Royal Ghost, Fleet-footed Policeman.
He feels honoured in joining this elite cast, playing dual roles in this great Australian play.
_____________________
David Williamson Playwright
David Williamson's first full-length play, The Coming of Stork, premiered at the La Mama Theatre, Carlton, in 1970 and later became the film Stork, directed by Tim Burstall.
The Removalists and Don's Party followed in 1971, then Jugglers Three (1972), What If You Died Tomorrow? (1973), The Department (1975), A Handful of Friends (1976), The Club (1977) and Travelling North (1979).
In 1972 The Removalists won the Australian Writers' Guild AWGIE Award for best stage play and the best script in any medium and the British production saw Williamson nominated most promising playwright by the London Evening Standard, and the play was a co winner of the coveted George Devine Award, the first time it had been given to a non U.K. writer.
The 1980s saw his success continue with Celluloid Heroes (1980), The Perfectionist (1982), Sons of Cain (1985), Emerald City (1987) and Top Silk (1989); whilst the 1990s produced Siren (1990), Money and Friends (1991), Brilliant Lies (1993), Sanctuary (1994), Dead White Males (1995), Heretic (1996), Third World Blues (an adaptation of Jugglers Three) and After the Ball (both in 1997), and Corporate Vibes and Face to Face (both in 1999).
The Great Man (2000), Up for Grabs, A Conversation, Charitable Intent (all in 2001), Soulmates (2002), Birthrights (2003), Amigos (2004), Operator (2005) Influence (2006), Scarlett O'Hara at the Crimson Parrot, (2008), Let the Sunshine(2009), Rhinestone Rex and Miss Monica (2010), Don Parties On, (2011), At Any Cost (Co written with Mohamed Kahdra, 2011) and Nothing Personal (2011), When Dad Married Fury (2012) and Managing Carmen (2012), and Happiness and Rupert (2013).
In 2014 Williamson had a record of eight plays professionally produced in Sydney alone. They included the sellout season of Cruise Control at the Ensemble Theatre, the successful revival of Travelling North at the Sydney Theatre Company, his Jack Manning Trilogy at the Concourse theatre, Rupert, at the Theatre Royal, and the revival of Emerald City at the Stables Theatre.
The Ensemble premiered his plays Dream Home, 2015, Jack of Hearts 2016, Odd Man Out 2017, Sorting out Rachel 2019 and The Big Time, 2019, all of them sell out seasons and in 2019 premiered his latest play Crunch Time which almost sold out before it opened.
In October 2018 his play Nearer The Gods opened the newly refurbished Bille Brown Theatre for the Queensland Theatre company to record box office and critical acclaim. The Australian wrote of the play "For Queensland Theatre this landmark event represents the dawn of an exciting new era. And as for the play itself, chalk it up alongside Brecht's Life of Galileo as one of the greatest in the science play genre. It's that good."
Griffin Theatre company in Sydney premiered his play Family Values in 2020 and also in 2020 Melbourne Theatre Company and Queensland Theatre mounted a joint revival of his 1987 hit Emerald City to mark his fiftieth year as a playwright.
Williamson is widely recognised as Australia's most successful playwright and over the last thirty years his plays have been performed throughout Australia and produced in Britain, United States, Canada and many European and Asian countries. His play Travelling North had a successful production in Vietnam and The Club ran for a year in Beijing, where its depiction of back room committee politicking obviously struck a chord with the locals.
A number of his stage works have been adapted for the screen, including The Removalists, Don's Party, The Club. Travelling North. Emerald City, Sanctuary and Brilliant Lies, and six of them have been made into quality Telemovies in Poland.
David Williamson has won the Australian Film Institute film script award five times, for Petersen (1974), Don's Party (1976), Gallipoli (1981) Travelling North ( 1987) and Balibo (2009) and has won twelve Australian Writers' Guild AWGIE Awards. He also wrote the screenplay for Pharlap (1981) , The Year of Living Dangerously, (1983) receiving a nomination for best screenplay from the Writer's Guild of America.
He wrote the screenplay for Showtime's On the Beach which won the Australian AFI award for best miniseries and was nominated for the Golden Globe awards in the U.S. He also wrote the screenplay for the HBO miniseries A Dangerous Life, about the fall of the Marcos regime in the Philippines which made the critics top ten list of the year in both New York and Los Angeles. In 2015 he was awarded the Special NSW Premier's Literary Award for lifetime achievement.
Altogether he has written twelve screenplays and five miniseries, including The Four Minute Mile for the BBC and The Last Bastion about General McArthur's arrival in Australia in WW 11, which was sold all over the world. He lives on Queensland's Sunshine Coast with his writer wife, Kristin Williamson.
Coming up September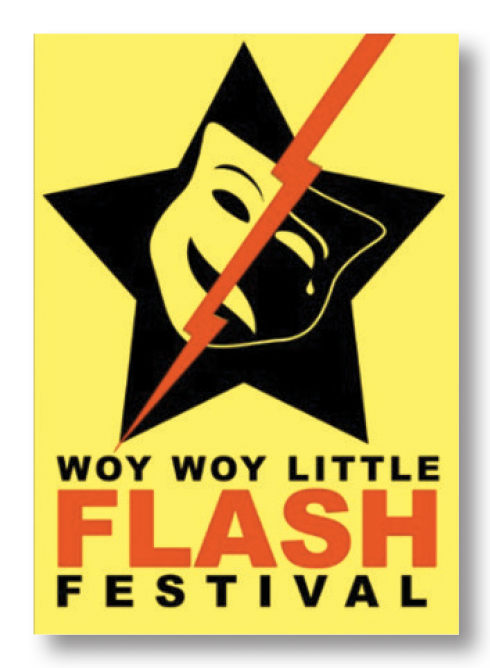 October / November